Nozbe - power and ease of use - to-do lists and task management made easy
Nozbe is a much more powerful to-do and task manager, yet it's even easier to use than Outlook. Your mom can even use it! Sign up for a free account and try it for yourself.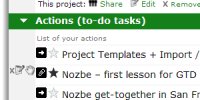 Getting things done is about... well... really getting stuff done and not writing it down for "further reference" and later feel you will never do get anything done. Nozbe helps you write your tasks and to-dos the easy way, either one at a time or more tasks at once... to help you get your to-dos organized in your Nozbe-powered system.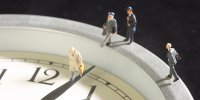 We know very well that to-do lists and managers of tasks and other related software can improve our personal productivity. This is true - our personal productivity can really be improved by an easy-to-use to-do list or task managers - and Nozbe aims to be this kind of software.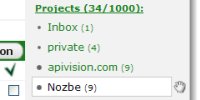 Every action, task or to-do that requires more than one step to complete is a project - this is what David Allen says in his book "Getting Things Done - the art of stress free productivity". Nozbe makes creating projects easy and adding to-dos and tasks to projects even easier. Later you can move your to-dos or tasks around and reorder them with a simple drag-and-drop technique or even move to-dos and tasks between projects.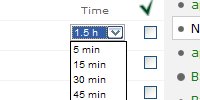 Time Tracking is built into your Nozbe to-dos and tasks. Just set a time needed to complete your task and estimate the amount of work you have for the day. Don't be too optimistic, not everything can be done in 5 minutes!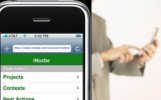 Nozbe enables you to view your to-do lists and tasks while on the go! If you have a web-enabled (wep 2.0 is enough) mobile phone, just log in to Nozbe.mobi and if you have an Apple iPhone - just go to iNozbe.com to manage your to do lists and tasks anywhere, anytime.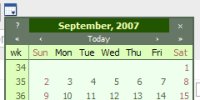 To-dos and tasks as events? Nozbe can be your Online Calendar!
Assign due dates, deadlines and schedule your meetings - convert any to-do item into an event, deadline or a meeting. Nozbe can be your online Calendar. Your to-dos and tasks with due dates become your next actions when the time is right. Nozbe takes an easy approach to calendar helping you add only these tasks from your to-do lists that need to be in your online calendar.
Getting Things Done is not just about to-do lists and taks management. It's a set of rules, behaviors and guidelines that help you to improve your to-do lists and tasks and your getting things done process with Contexts, Projects (project management) and Next Actions. Nozbe is a GTD Software and tries to help you implement these rules. The author of the book "Getting Things Done and the art of stress free productivity" is helping you learn the good habits about reviewing and processing your to-do lists and improve over your task management skills. You can benefit from Nozbe's to-do lists and task management features even if you haven't read the book, but we strongly encourage you to read David Allen's "Getting Things Done (GTD) - the art of stress-free productivity"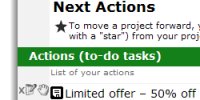 Identify your next actions on your to-do lists and among all your tasks
Quickly identify your next actions in your to-do and task lists to help you move the projects forward. Get things done and spot your next actions quickly with a "star" to process them later in your next actions to-do list in Nozbe. Our to-do lists help your task management skills with the handy and quick "Next Actions" concept.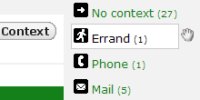 Contexts - new GTD concept among your to-do lists and tasks
Work in contexts to get more projects done. "Contexts" is yet another concept from the book by David Allen "Getting Things Done (GTD) and the art of stress-free productivity" that helps you process your to-do lists and makes task management even easier. Your tasks and to-dos are organized in a second-level lists like: "phone", "errand", etc... to help you process these to-do lists and get tasks done.
Nozbe = to-do lists and task management software more powerful and yet so easy to use.
Nozbe es una herramienta web
administrador de tareas y una lista de cosas que hacer gtd software
que te ayudará
productividad personal
-
gestión de proyectos
y
seguimiento de tiempo
. Nozbe gtd software está disponible para tu navegador de Internet y tu
teléfono móvil y Apple iPhone
. Inspirado por David Allen y su libro
"Organízate con eficacia" - Máxima productividad personal sin estrés
.